Group exhibit — MO_Space


Fresh Cut, New Blood
Sometimes, Other Times
2017
mixed media
MO_Space X: Fresh Cut, New Blood
Curated by Gary-Ross Pastrana
05 August — 03 September 2017


Exercise 5: Cut out one particular shape or pattern. Using different materials, colors, textures and transparency, continue cutting out that one particular shape; you can repeat the same shape in varying sizes. Collage and layer the shapes onto a piece of paper.

This is one artist's instruction to another artist. The artist who gives the instruction poses as teacher, while the receiver of the instruction acts as her student. The instruction given is for producing a kind of artwork known as collage. Although the designation of titles—of teacher and student, pertains to an instigator and doer, both, in actuality, participate as decoders—one through the abstract landscape of ideas, while the other through heaps of tactile paper.

Collage's suitability to be set in certain parameters without compromising the multifariousness of its result makes it an ideal exercise for exploring the visual landscape. Shapes, colors, and patterns; process, repetition, and conditions—combine as the enigma to be solved. It is a riddle in reverse, where the answer comes first to initiate questioning. The question, the resulting product which is a rabble of incoming queries via cut paper asks: why do you see?

Artist and curator, Gary Pastrana, who himself works with collage, has observed a kind of peculiarity in the steady adherence by a number of artists to the form. Gaining prominence during the latter stages of modernism, collage since then has continued to become a welcome diversion for local artists exploring different media. "I believe that this is something peculiar to the Philippines," according to Pastrana. "I have surveyed other cities and art institutions across the region and beyond but haven't found any indication of a similar, continued interest in collage among contemporary artists." He then goes on to infer that this may be a direct result of Roberto Chabet's classroom exercises.

Exercise 3: Make a collage only from two sources of its kind: two magazine pages, two materials, two photographs, two flyers, etc.

During his 30-year tenure as a professor at the College of Fine Arts in the University of the Philippines, Diliman, Chabet became known for pushing his students to exhaust all possibilities for a single idea via repeated executions. For him, the processes that went behind these permutations were more important than the finished product. These pedagogic exercises usually came in the form of collages, which, Pastrana posits, would explain the continuing interest among younger artists—even to those who were never taught by Chabet.

Fresh Cut, New Blood shows how Chabet's influence has spread from one generation of artist to the next and revisits the method of instruction as a liberating rather than a limiting factor. The focus on young, next-generation artists featured in the show attests to collage's capacity to explore, scavenge, and decode the tumult found in the present visual landscape. Featuring both new works in collage and exercises done from a set of instructions, Fresh Cut, New Blood is a testament to both collage and Chabet's influence, explored through a pedagogic mode of exhibition, with artworks by Jan Balquin, Dina Gadia, Jacob Lindo, Carina Santos, and Jel Suarez; and instructions from Mariano Ching, Yasmin Ching, and Gary Pastrana. — Cocoy Lumbao

Exercise I
From a magazine, make a collage without the use of any bladed material.
Exercise IV
Stain your papers with paint that you usually do not work with. Keep the colors limited to three. Layer the stained paper with a collage of a limited color palette. Draw a line drawing on top using black ink. Repeat until you are satisfied with the results.
Exercise II
Make a collage using excess school or office supplies.
Exercise V
Cut out one particular shape or pattern. Using different materials, colors textures, and transparency, continue cutting out that one particular shape. You can repeat the same shape in varying sizes. Collag and layer the shapes onto a piece of paper.
Exercise III
Make a collage only from two sources.
Exercise VI
Choose a magazine or photo book. Cut a shape from each page, making the first page the biggest page, and the last page the smallest. Glue or stick the pages together. You can stick to a minimum of five pages or up to the entire book or magazine.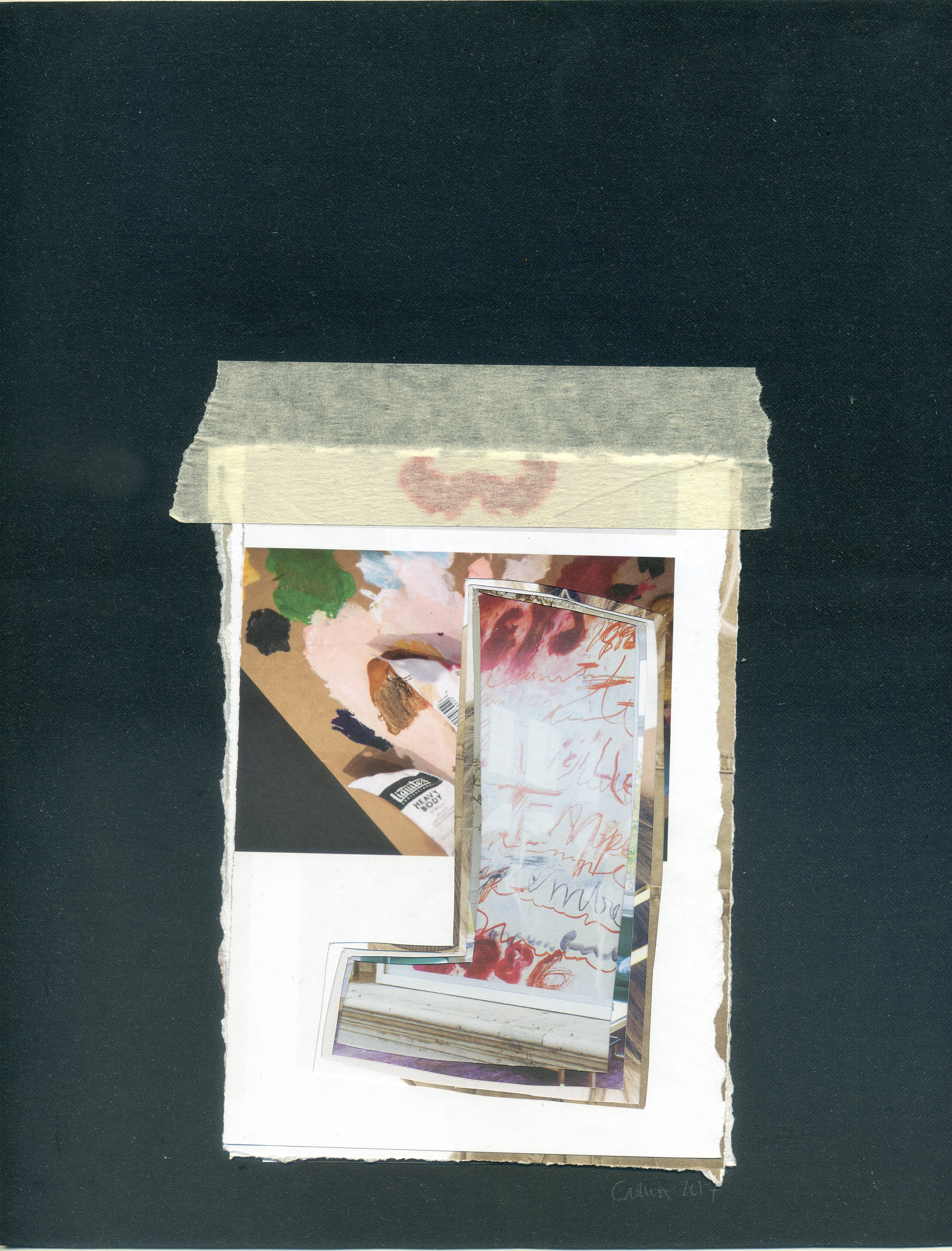 Exercise VII
Choose a collage you've made. Copy it using line drawing only. Then use a maximum of three colors to color the shapes using minimal brush strokes, flat colors, and no tones.